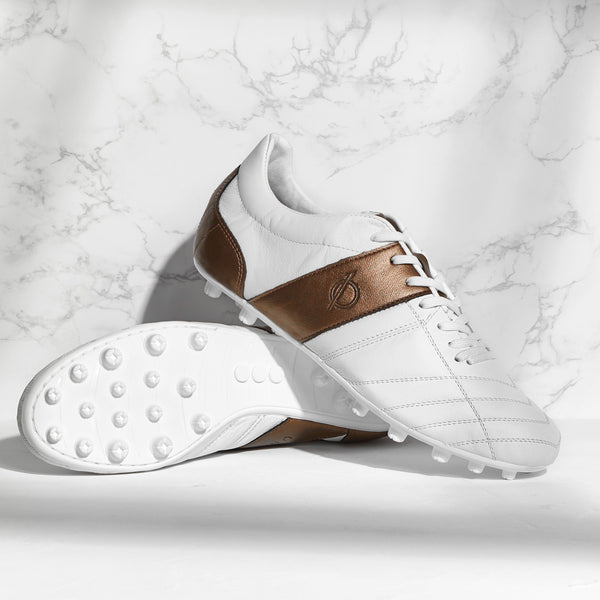 Artificial-Grass Soccer Cleats for Indoor and Outdoor Fields
The AG Modelo 1.0 is the most comfortable soccer boot in the game. Handmade in Italy with a premium full K-leather upper, it molds to the foot for a perfect 'custom-like' fit. Featuring a midsole and a deep lacing system, the Modelo 1.0 is built for the serious footballer that does not compromise on quality and comfort. 
Kit includes a 1oz leather cream and string bag, in a premium box.
FREE SHIPPING, RETURNS & EXCHANGES in the Continental USA. See FAQ page for details.
Shipping of this product to California is not available. 
The Design: Modern Elegance
Classic colors and an elegant design define the Modelo 1.0 boots. A modern classic fit for today's level of play.
The Material: Premium K- Leather
Lightweight and strong, our kangaroo leather contours and molds to the foot like a glove, providing a superior fit, durability, and protection.
The Origin: Handmade In Italy
Craftsmanship and attention to detail in every pair. The Modelo 1.0 are handmade in Italy in small batches by the same shoemakers who for decades have worked with the best professional players in Europe.
The Studs: Conical Form
Conical studs allow for stable rotation and traction.
The Outsole: Perfect Balance
Studs are strategically positioned to provide superior balance, stability, and durability.
The Lacing: Deep Lacing System
The laces start closer to the toes than on a standard lacing system, allowing for maximum adjustability and control of tightness on the entire foot, thus providing excellent lockdown.