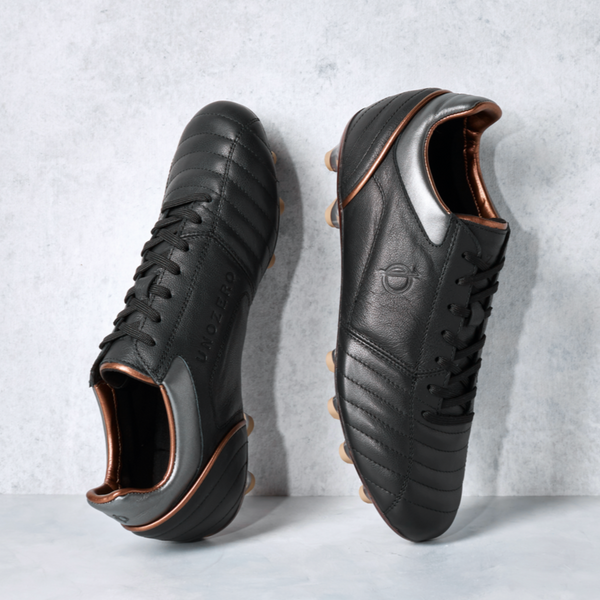 Firm-Ground Soccer Cleats
The UNOZERO Cali is handmade in Italy with a premium full calf leather upper that molds to the foot for a perfect 'custom-like' fit. Featuring a midsole, stitched outsole, bladed conical studs and a deep lacing system, the Cali is built for the serious footballer that does not compromise on quality and comfort. 
Kit includes a 1oz leather cream and string bag, in a premium box.
FREE SHIPPING, RETURNS & EXCHANGES in the Continental USA. See FAQ page for details.
The Origin: Made in Italy
Italian quality, craftsmanship and attention to detail in every pair of our handmade soccer cleats.
The Quality: Professional Grade
Our players range from high school to professionals, and all UNOZERO cleats are made with professional grade standards. Each pair is made by our expert shoemakers who have worked for decades with the best pro players in Europe.
The Material: Premium Calf Leather
Lightweight and strong, our premium Italian leather contours and molds to the foot like a glove, providing a superior fit, durability, and protection.
The Insole: Balanced Cushioning
Provides cushioning while ensuring a natural, comfortable, and stable fit.
The Studs: Bladed Conical
Combines the benefits of conical and bladed studs. The conical shape provides rotation, while the bladed shape provides traction.
The Lacing: A Deep Lacing System
The laces start closer to the toes than with a standard lacing system, allowing maximum adjustability and control of tightness on the entire foot, thus providing excellent lockdown.
The Padding: Balanced Comfort
The right amount of lightweight padding, in the right places, ensuring balance between a comfortable fit and excellent ball touch.
The Outsole: Firm Ground
Ideal for natural surfaces and newer generation artificial grass surfaces (3rd generation and newer).